The master bathroom had plywood closets integrated with the bathroom vanity, which was also made of plywood, and we decided on a total overhaul of the bath room. To the left of the vanity is the toilet area and on the right of this photography the beginning of the closet area.
An eight foot wide reach-in closet spanned the end wall of the bathroom and in this photograph we have partially removed some of the cabinets along the back wall.
The new door frame will be built at the far end of the opening in this photograph and we will build a wall in the original opening and a space for the pocket door.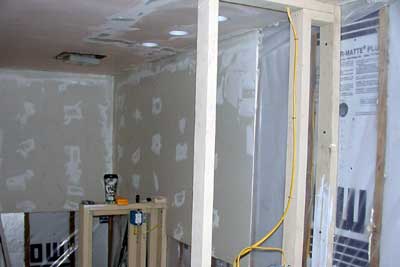 We installed new insulation along the two of the walls; the far wall behind the toilet is an outside wall and the long wall to the right a crawl space wall and utilized water resistant dry board in the entire bathroom with the exception of the shower area and steps, which are tiled.