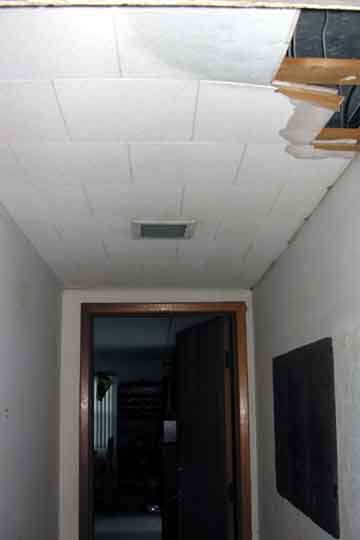 The hallway to the apartment had a cinderblock wall to the right, water damaged and missing stapled twelve inch tiles above, and a sheetrock wall to the left.
We removed the ceiling tiles and most of the two by four grids which they were attached to and would build a two by four frame for the new ceiling. We removed all the drywall in the hallway and the adjacent room and would rebuild all three door frames, one at each end of the short passage from the original house to the apartment and the third to the children's den.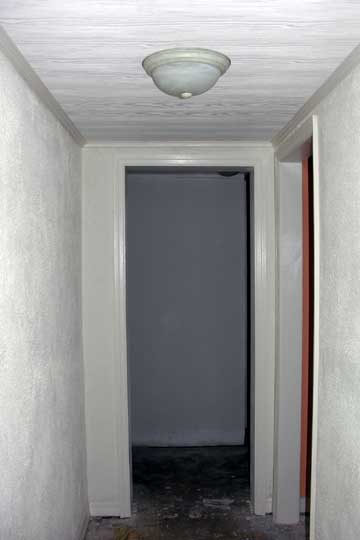 We installed the ceiling tiles and we are using a two light bulb fixture which is similar but slightly deeper than the five we utilized for the thirty feet of the long hallway. We are using the same bed molding and colonial door casing and base molding that we have used in the three bedrooms along the long hallway and the children's den.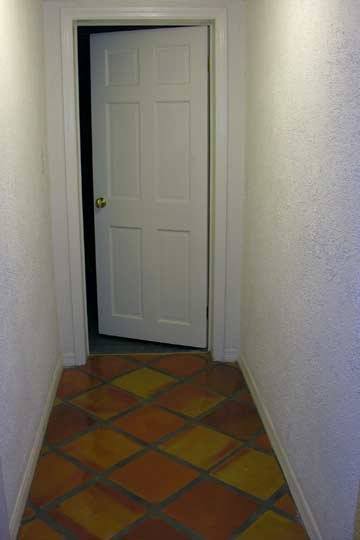 We rebuilt all three door frames along the apartment hallway, as we have along the entire downstairs, and the far end of the short hall leads into the apartment kitchen. We built an eight inch wide door frame out of parallel two by fours at the apartment end of the short hall to mimic the width of the entry at the opposite end of the hallway, which is an opening in the cinder-block wall, have installed a colonial six-panel solid pine door, which we have used to replace original door throughout the bedroom area of the lower floor. The entry from the long hall and the children's den will remain without doors.