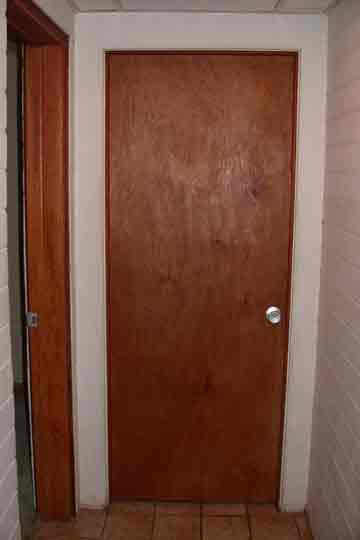 The door on the left is to one of the two children's bedrooms along this hallway and the door in front is to the master bedroom suite. The ceiling was a generic suspended ceiling tile, which was damaged due to water leakage from the sliding patio doors above on the rear wall of the main story and was removed some time ago. The walls had grooves etched into plaster over block, this we would fill in with dry wall joint compound and then a light texture finish and the floor had small six inch tiles.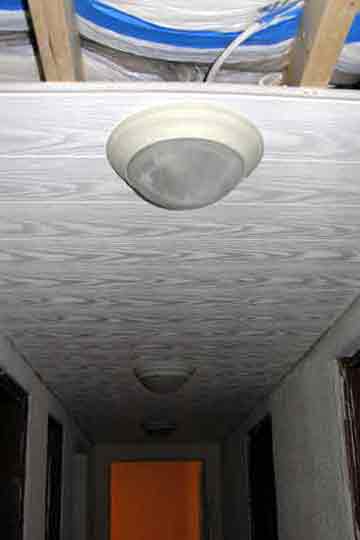 We installed six-inch wide wood plank look ceiling tiles to the two by four grids we installed below the heating and a/c ductwork. Five light fixtures would eventually be installed along the long hallway, three fixtures along an eighteen foot section along the bedrooms and two along a ten foot section by the short hall and stairwell.
In this photograph we had completed the new door frames for two of the three bedrooms along the hallway and were working on the utility closet across from the children's bathroom. The bright wall paint, additional lighting as compared with the original lighting scheme (five light fixtures instead of three), and solid six-panel doors, new doors frames and colonial molding all painted high gloss linen white have brightened the hallway.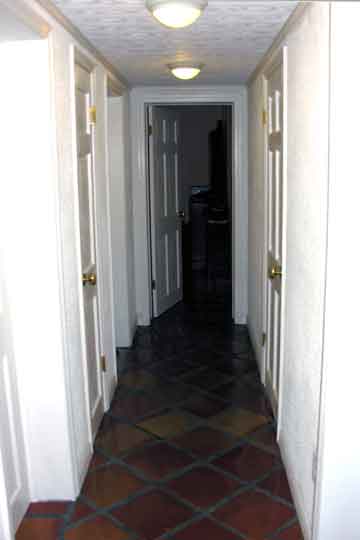 The majority of the door frames along both hallways were created by ripping two by twelve pine boards down to nine and a sixteenth inch, which covered the entire door opening and the added width of the wood strips and drywall which we installed along the interior of the bedroom walls. The plaster walls with the horizontal grooves were smoothed with drywall joint compound and then a light texture with a bright white paint.