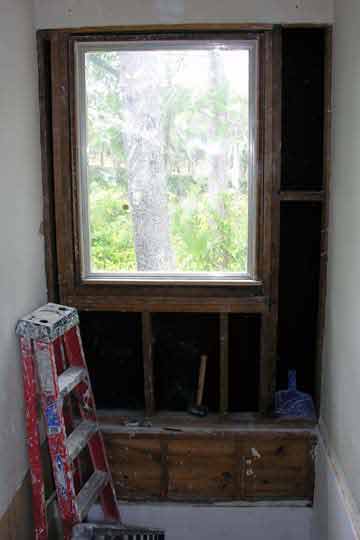 We removed most of the dry board off the wall to facilitate the removal or the single pane aluminum framed window, which we would replace with an energy efficient dual-paned white vinyl coated window.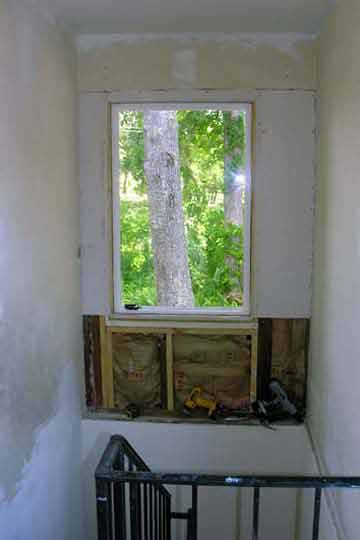 We wanted to install a taller window in the stairwell so that the other window on the west wall of the main story, the den window, would be identical so it was necessary to remove the studs below the window and install a shorter frame. We insulated the wall while the drywall was removed and have installed an energy-efficient dual pane with a bronze tint.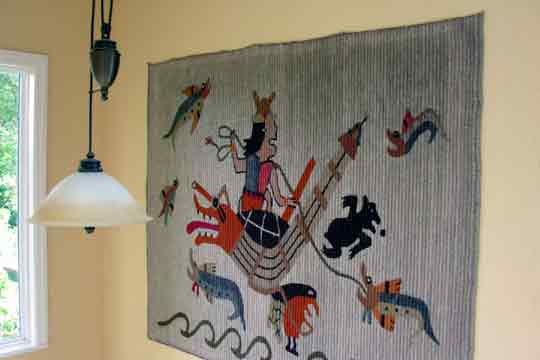 We framed in the window (photograph on left) with colonial casing and designed a small wooden ledge on top of the block base of the home, which previously was covered by a thin section of wood paneling and also allows for placement of small decorative objects.
We installed a hanging lamp with a pulley in the stairwell, this lamp compliments the wall sconces and door hardware of the main floor, which are Venetian Bronze, and placed a Peruvian rug on the side wall of the stairwell.