This is the original hollow-core wood slab door and doorjamb to the children's bathroom, which would be replaced by new lumber, solid pine door, and colonial molding. The vanity alcove is on the left followed by the tub; the bathroom then turns ninety degrees to the right and the toilet is located there.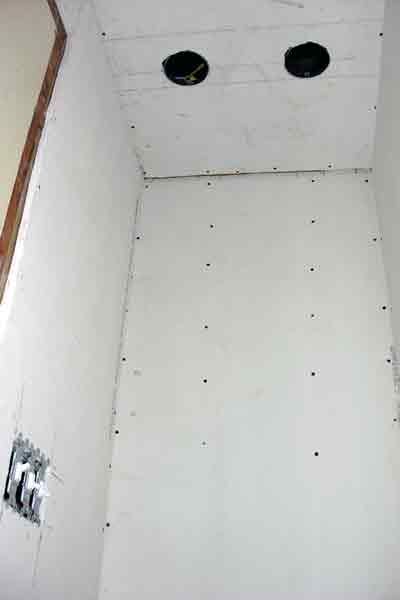 The vanity alcove is just to the left of the entry door and we installed three new switches: one for bathroom lighting, one for the exhaust fan, and one for the vanity lights. We will install two three-inch recessed light fixtures in the cavities in the lowered ceiling to provide lighting for the vanity area.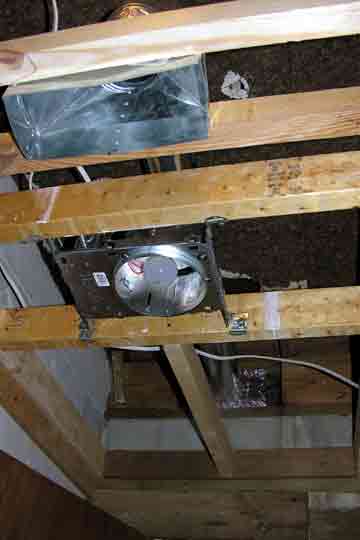 The ceiling was very high for the width of the bathroom, which is very narrow so we lowered the ceiling from one hundred and four inches down to eighty-six inches. This necessitated extending and dropping the ductwork as originally the vent was positioned above the entry door. We also ran new wiring for three five inch recessed lights, to be positioned in the shape of an "L" to follow the shape of the room, with the ac vent between the first two lights.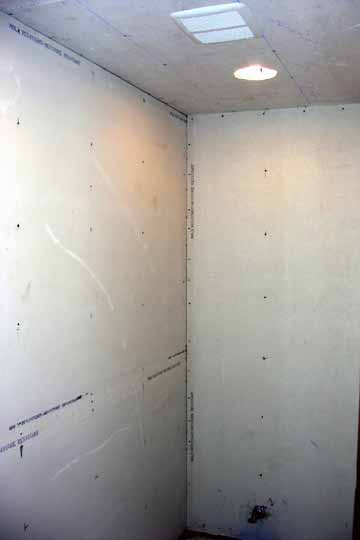 The paperless mold resistant sheetrock is very dense, does not crumble along the cuts as regular sheetrock does, and we decided to use it throughout the home as we replace walls along the bedroom section of the lower floor. We have installed the lowered ceiling above the toilet, a new exhaust vent unit and hoses, and the third of the five-inch fixtures for general lighting.