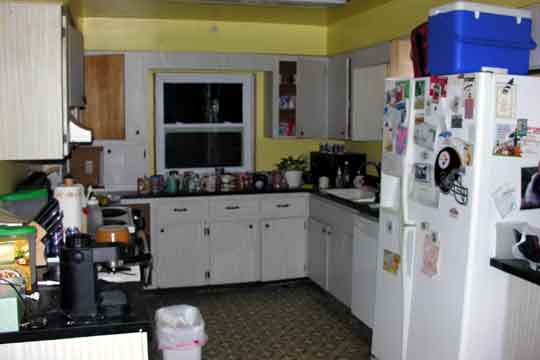 We wanted room above the kitchen cabinets to display vases and kitchen pottery that were collected by Aimee's parents during their travels about and some Portmeirion pieces that were overflowing from our china cabinet in the great room that we collected along our way so would remove the wall above the cabinets.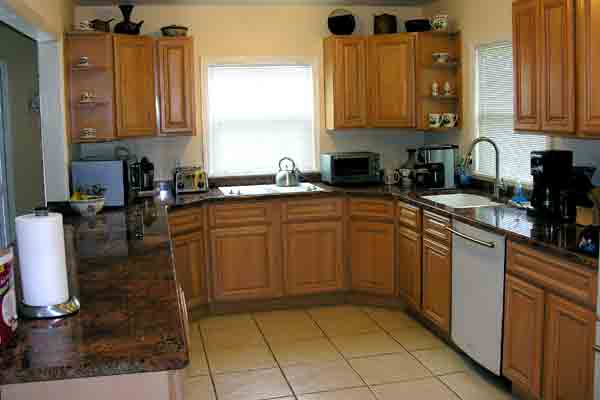 The stove was positioned between cabinets along the common wall between the great room and kitchen and the purpose of the stove will be divided to the built-in oven unit located adjacent to the pantry and a downdraft cook top in white, which is positioned below the window along the back wall. The sink was placed beneath the window overlooking the side yard and the replacement is a granite composite sink, under mounted and in the same same location. We placed corner wall cabinets that have a forty-five degree angle in the front and below the two corner wall cabinets are located two vanity cabinets that also have the angled front panel.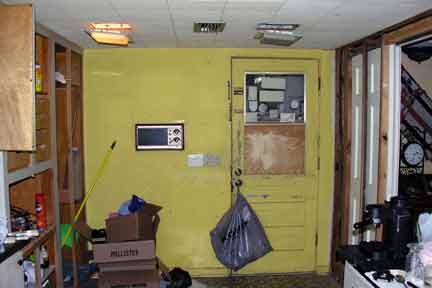 The ceiling was lowered along the garage wall to seven feet into the room from the height of eight feet to seven feet, which is the standard height of the top of kitchen wall cabinets and we removed the ceiling and raised it up to eight feet. The main floor kitchen is approximately twenty feet by ten feet and the lowered ceiling, as well as the wall on the front of the wall cabinets made the kitchen appear confined. By raising the ceiling to the full eight feet along the majority of the kitchen and opening up the common kitchen-dining area wall in an area of four feet tall by eight feet wide, the kitchen now seems much larger than it is.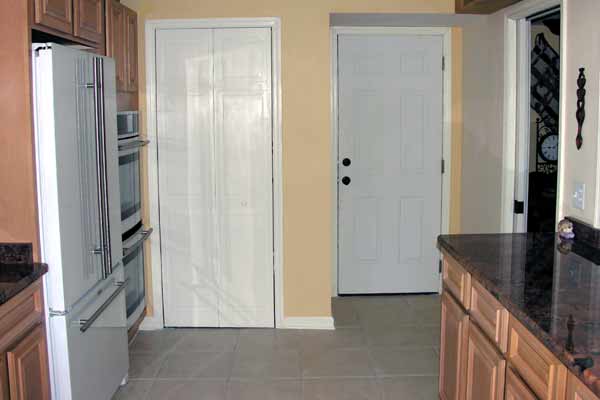 A pantry was built along the garage wall behind a six-panel bi-fold door with deep shelving (24 inches) to the left and smaller seven-inch deep shelves to the right and the kitchen door to the garage was replaced. Directly across from the entry door from the great room is a double oven with the floating glass curved front in a built-in cabinet and to its left is a refrigerator with French doors in the same floating glass design in the refrigerator cavity. We moved the location of the refrigerator to the right of the original location as that location divided the countertop and we now have a longer work space between the refrigerator and the sink.