The Brotherhood of the Blackhead, whose patron saint was the Moorish St. Mauritius, is depicted on the guild's coat of arms and above the door, which dates from 1640 while the building itself dates back to the 1500s, was a medieval guild active in Estonia and Latvia.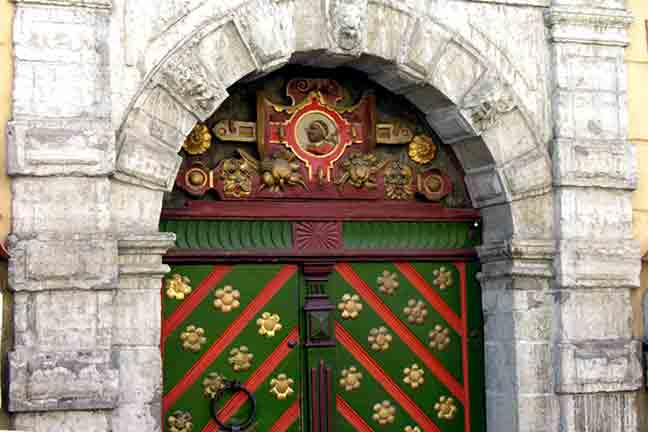 The 14th Century Holy Spirit Church is located just off Town Hall Square and is a radiant, white church with an octagonal tower, whose elaborate painted clock on its facade is Tallinn's oldest public timepiece, dating to the late seventeenth century. At this church, sermons were first given in the Estonian language, as opposed to German.
This detail is on the side of St. Olav's Church, which at one time (1549-1625) this thirteenth century church was the tallest building in the world. However, its gigantic, 159-meter spire, which was probably meant to act as a signpost for approaching ships, also turned out to be a very effective lightning rod and throughout the church's history, its steeple has been hit repeatedly by lightning, completely burning down the structure three times.