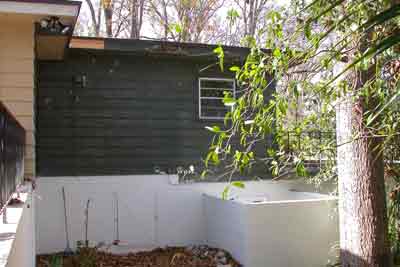 The east wall of the main floor had some wiring to a light fixture and bell system from an obsolete alarm system that needed to be removed and conduit with 220 volt line to the pool filter and the kitchen had a single-pane aluminum framed window, which we replaced with a dual-pane energy efficient vinyl coated frame window.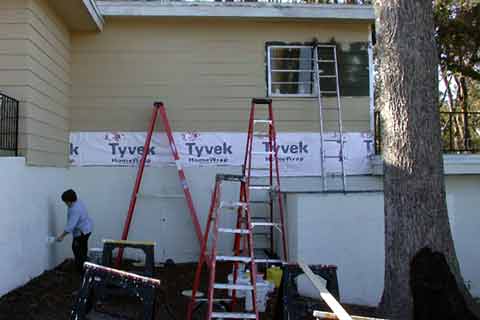 We removed the conduit, which contained the two twenty line to the pool pump, and routed the wires through the master bedroom, replaced some rotten lumber where the main floor meets the lower story roof, and installed house wrap along sections of siding we removed.
We moved sixty cubic yards of topsoil, three dump truck loads, to fill in the low areas, build a wider mound along the fence to prevent water from washing through our yard from the private road to the homes on the lake , and to build up three raised bed gardens. We planted Lantanas along the fence in a raised flower bed and two Tibouchina in front of the raised bed.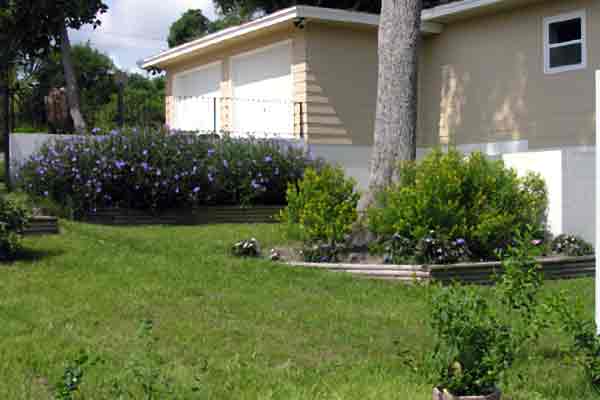 We planted Dwarf Mexican Petunias and Thryallis near the sole remaining tree in the side yard in the third raised bed garden along the driveway retaining wall planted Mexican petunias and in the past sixteen months the plants have flourished. The new window frame and window have been installed and we have primed and painted all the new siding.