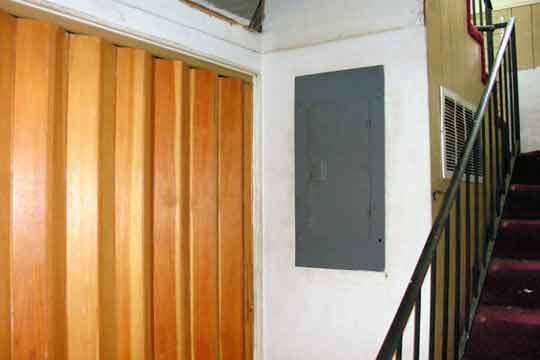 The utility closet had wooden accordion doors and the circuit breaker box cover was exposed and unsightly.
We rebuilt the doorframe, installed Colonial door casing, installed a pair of six-panel wooden bi-fold doors, and placed a poster of Bogart's movie Casablanca over the circuit box cover.
The lower staircase had thin wood paneling on one wall, block with plaster and grooves on the other wall, and a strip of the thin wood paneling between the block walls of the lower story and the sheet rock of the upper wood frame walls.
We replaced the wood paneling with sheet rock on the left wall of the stairwell, utilized drywall mud to smooth the block wall and the wood we exposed between the floors when we removed the strip of paneling, and had a wood stairway tread installed.